Natalie and Rachelle over at
What the Teacher Wants
are hosting a linky party all about what we're thankful for! What a great (and appropriate) idea! I've been posting each day on my Facebook page about the things I'm thankful for, and it has made me realize how INSANELY blessed I am to have all that I have. Since this is a school-related blog, I'm making all of my answers school related, too. Feel free to head on over and link up the things you're thankful for :)
1. What are you thankful for in your classroom?
My iPad, SMARTBoard (sometimes), and Leveled Literacy Intervention system! The iPad has totally changed my teaching; there are so many awesome things on it that can enhance what I'm doing with my kids in small groups. My SMARTBoard is VERY finicky, so sometimes I'm cursing it more than being thankful for it, but in the end I can't imagine my classroom without it. LLI is the program I use for all of my reading groups, and man-oh-man am I thankful for Irene Fountas and Gay Su Pinnell! It is truly an invaluable resource at my school.
2. What person are you most thankful for?
AHHH, what an insanely hard question!!! How can I choose?? Even though I've narrowed it down to school related people, it is still so difficult. There are so many people here who are my mentors and friends, and I can't imagine surviving (especially last year) without them. However, if you put a gun to my head and FORCED me to choose I'd have to say my amazingly fantastic instructional assistant, Ms. Terri Bell. I can't say enough good things about her. She restores my sanity, gives me great ideas for lessons and modifications, is a great listening ear, and is above all else one of my dearest friends. She has saved me more times than I can count and I am reminded daily of how much she means to me and does for me. What a blessing :)
3. What 3 blogs are you most thankful for?
Geeze, that's another hard one. Well, besides
TBA
(obviously) I'd have to say my 3 favorites are the following: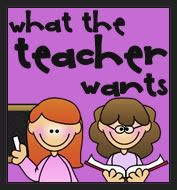 What the Teacher Wants (and I'm not just saying that because this is their linky party!). I love the freebies, the ideas, and all the inspiration they provide. Thanks, Rachelle and Natalie for all your fantastic ideas.


Queen of the First Grade Jungle, Mrs. Katie King! She teaches at the same school I do and is always filling me in on her awesome blog finds. She is a great teacher, coworker, and blogger :)
Last but CERTAINLY not least, the first blogger I ever stalked. I was literally blown away by the amount of fantastic information she provided. Please, please check out
Mrs. Cara Carroll at The First Grade Parade
for some serious inspiration.
4. What guilty pleasure are you most thankful for?
I am super thankful for my candy jar! Some days I just really need a burst of sugar to keep me going. The candy jar is perfect, especially when it is just a little sweet that I'm in need of. It can get a little costly, but I sure do love it ;)
5. What are you most thankful for?
When it comes to school, I am definitely most thankful for my kids. They keep me motivated even on the days where I feel myself start to get jaded by all the negatives and craziness that can float around in education. They remind me every day why I absolutely love what I do. I can't imagine doing anything else and I am so very thankful for the kids that make my work all worth it.